(view in: Russian, Spanish, Chinese, German, Polish)
Our society has never aged more rapidly – one of the most visible symptoms of the changing demographics is the exponential increase in the incidence of age-related diseases, including cancer, cardiovascular diseases and osteoarthritis. Not only does aging have a negative effect on the quality of life among the elderly but it also causes a significant financial strain on both private and public sectors. As the proportion of older people is increasing so is health care spending. According to a WHO analysis, the annual number of new cancer cases is projected to rise to 17 million by 2020, and reach 27 million by 2030. Similar trends are clearly visible in other age-related diseases such as cardiovascular disease. Few effective treatments addressing these challenges are currently available and most of them focus on a single disease rather than adopting a more holistic approach to aging.
Recently a new approach which has the potential of significantly alleviating these problems has been validated by a number of in vivo and in vitro studies. It has been demonstrated that senescent cells (cells which have ceased to replicate due to stress or replicative capacity exhaustion) are linked to many age-related diseases. Furthermore, removing senescent cells from mice has been recently shown to drastically increase mouse healthspan (a period of life free of serious diseases).
Here at CellAge we are working hard to help translate these findings into humans!
CellAge, together with a leading synthetic biology partner, Synpromics, are poised to develop a technology allowing for the identification and removal of harmful senescent cells. Our breakthrough technology will benefit both the scientific community and the general public.
In short, CellAge is going to develop synthetic promoters which are specific to senescent cells, as promoters that are currently being used to track senescent cells are simply not good enough to be used in therapies. The most prominently used p16 gene promoter has a number of limitations, for example. First, it is involved in cell cycle regulation, which poses a danger in targeting cells which are not diving but not senescent either, such as quiescent stem cells. Second, organism-wide administration of gene therapy might at present be too dangerous. This means senescent cells only in specific organs might need to be targeted and p16 promoter does not provide this level of specificity. Third, the p16 promoter is not active in all senescent cells. Thus, after therapies utilizing this promoter, a proportion of senescent cells would still remain. Moreover, the p16 promoter is relatively large (2.1kb), making it difficult to incorporate in present gene therapy vehicles. Lastly, to achieve the intended therapeutic effect the strength of p16 promoter to drive therapeutic effect might not be high enough.
CellAge will be constructing a synthetic promoter which has a potential to overcome all of the mentioned limitations. A number of gene therapy companies, including uniQure, AGTC and Avalanche Biotech have successfully targeted other types of cells using this technology. With your help, we will be able to use same technology to develop tools and therapies for accurate senescent cell targeting.
Currently scientists cannot reliably identify all types of senescent cells, while at the same time excluding non-senescent cells. We believe however that we can develop just such a tool. SeneSENSE reporter assay will be designed as a universal detection kit for senescent cells, thereby greatly benefiting the aging research community. As our primary mission is to expand the interface between synthetic biology and aging research as well as drive translational research forward, we will offer senescence reporter assay to academics for free. We predict that in the very near future this assay will be also used as a quality control step in the cell therapy manufacturing process to make cell therapies safer!
As our secondary goal, we will focus on validating gene therapies for senescent cell eradication (SeneHEALTH) – initially for patients with progeroid syndromes, then for patients who underwent radiotherapy (during which the number of senescent cells are increased) or developed age-related disease and eventually for healthy individuals.
$40,000: Initial Goal – Candidate promoter design


Our first work project is to design candidate synthetic promoters which would be able to accurately detect senescent cells. To do that, we will analyse transcription profiles of a number of senescent cells. To cover all different senescence states, we will analyse senescent cells from different tissues and at different stage of senescence. We will use this data and proprietary bioinformatics algorithms to design genetic circuits which are specific to these cells.


$60,000: Stretch goal 1 – Assembly and screen


After we have designed our senescent cell specific genetic circuits, our next goal will be to perform the actual DNA assembly, along with screening for functionality. This stage will require an additional $20,000 in funding for DNA synthesis, cloning and functionally testing our promoters in different cell types through the use of flow cytometry and microscopy. At the end of this stage, we will have our lead promoters identified.


$100,000: Stretch goal 2 – Lead candidate optimization and validation


By taking our lead candidates through an additional round of "Design-Build-Test" cycle, we will be able to optimise the DNA sequence, add any additional specificity and exclude unwanted effects. This stage will end when we conduct a final in vitro screen which will allow us to validate specificity of our candidate promoter in different cellular contexts.

This project will be run by CellAge, working in close collaboration with Synpromics. The complimentary skills and experience of these two teams is the key driving force behind this project.
The CellAge team has a diverse number of skills and experience on board. Our core team consists of Mantas Matjusaitis, Azuolas Ciukas and Eryk Jan Grzeszkowiak. Mantas (BSc Biomedical Science) is currently finishing his PhD in synthetic biology (University of Edinburgh) and has been involved in the SENS Education programme, resulting in a publication. Azuolas is finishing his degree in Economics and brings financial experience and business acumen to the team. He has worked in an M&A advisory boutique, Porta Finance (Rothschild's exclusive partner in the Baltics), and KPMG's Deal Advisory division. Last but not least, Eryk holds a BA degree in Philosophy, Politics and Economics (University of York) and is currently studying for a MSc in Human Complex Trait Genetics (University of Edinburgh). He is the author of the first Polish blog dedicated to genetic genealogy and speaks regularly on the genealogical applications of genotyping and DNA sequencing at regional and national conferences.
In addition to the core team, CellAge is supported by an experienced board of advisors. Dr. Alexandra Stolzing and Dr. Juan Carlos Acosta are providing scientific guidance to the CellAge R&D program. They have both published a large number of high impact peer-reviewed articles, ranging from topics on paracrine senescence to stem cell aging. Their expertise grants CellAge access to world class scientific guidance to ensure a well-evaluated research program. Dr. Mike Capaldi, our business advisor, brings valuable insight into the business side of the project . For the last 18 years, Mike has worked in the biotech/technology sector serving as executive director on the Boards of both publically listed and private companies including Core Group plc, Oxford Asymmetry plc, Mindweavers plc, Synaptica Ltd, Scancell plc, Hunter-Fleming Ltd and CMP Therapeutics Ltd (in the latter four companies as CEO).
We believe that a collaboration of many people sharing the same vision can bring a project to a whole new level and transform into a real movement. We would like to extend our deepest gratitude to our key partners who support us on this journey as well as to all the donors and supporters who are helping to make this project possible.
In order to reach as many people as possible and to make this project even more engaging we have partnered with a number of creative technology companies. By supporting our campaign you can become a robot engineer, bioengineer or even crack DNA coding secrets to immortalize your name!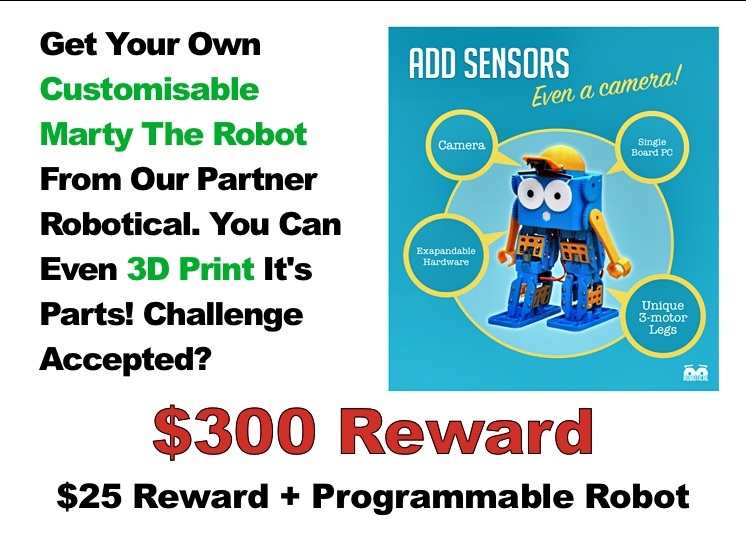 ---
We hope you are as excited about these rewards as we are, but in the end, the greatest reward that we hope to offer is making people live healthier lives. The possibility of this reward depends on all of us, so please consider donating and spread the word by sharing our project with your friends and family. Thank you!
Dalibor Otter
$25.00

Oleg Abrazhaev
$50.00

Ken Alexander
$100.00

Evan Crossing
$50.00

Анна
$2.00

Denis Varvanets
$1.00

Transhuman Tees
$10.00

Дмитрий Шарков
$1.00

Sergei Glukhow
$5.00

natasha liff
$25.00

Piotr Pawlik
$20.00

Dzmitry Safarau
$5.00

Gajusz Kwiatkowski
$100.00

André Heinonen
$25.00

Matthew McAteer
$50.00

Oliver Ward
$25.00

Thomas Quintana
$25.00

Anonymous
$10.00

Alexey Zabolotny
$10.00

Daniil Kononenko
$10.00

Elena Mezhneva
$33.00

Christophe Cornuejols
$1,000.00

Johnny COURMONTAGNE
$20.00

Daniel Romero
$10.00

Anonymous
$1,000.00

Aleksei Aizenberg
$5.00

Felix Weimer
$24.99

Jan-Willem Bats
$25.00

Alexander Kamosko
$17.00

ILIA STAMBLER
$25.00

Anton Kulaga
$5.00

Richard Oren
$10.00

Nicola Bagalà
$10.00

Todd Thomas
$50.00

Dinesh Rajasekharan
$25.00

Richard Kaufman
$10.00

shane keating
$25.00

Lars Claussen
$100.00

Nathan McKaskle
$25.00

Alexandra
$5.00

Andrey Azev
$1.00

Anonymous
$5.00

Anonymous
$1.00

Chris McAulay
$15.00

Andrew England
$50.00

Alexander` Paul
$25.00

Emanuele Ascani
$25.00

Andrey Ulitin
$100.00

Jason Morton-McKay
$58.74

Jason Perkins
$10.00

Lukas Henschke
$25.00

Sven Bulterijs
$25.00

Marcelo Leal
$100.00

Anonymous
$50.00

Mike Hädrich
$150.00

Michał Szymacha
$10.00

Adrian Cull
$150.00

Nate Rifkin
$50.00

abraham jaleel
$6.00

Anonymous
$5.00

Joris Masson
$10.00

Didier Coeurnelle
$25.00

Cameron Bloomer
$25.00

Breen O'Cuilein
$30.00

Guillaume Galdrat
$25.00

Aleksey Foos
$10.00

Anonymous
$100.00

Andriy Popovych
$25.00

matthew o'connor
$25.00

Demian Zivkovic
$25.00

Anonymous
$1,000.00

Anonymous
$35.00

Matt Johnstone
$25.00

Montie Adkins
$100.00

Montie Adkins
$25.00

Aleksandr Pakhomov
$10.00

michael morden
$5.00

Martin Kleman
$10.00

Mihkel Lukats
$25.00

Louis Burke
$25.00

Fabian Pudlo
$50.00

Timothy Gale
$25.00

Grant Simmons
$10.00

Anonymous
$5.00

Vincenzo Paduano
$5.00

Demian Zivkovic
$25.00

Elle Rosen
$50.00

Aleksandr Popov
$50.00

Mykhailo Korbakov
$105.00

Alexandru-Gabriel Gherguț
$10.00

Zarathustra Goertzel
$50.00

Tony Giannetti
$10.00

Adam Gibbons
$100.00

Tsimafei Padvitski
$25.00

Kennita Watson
$25.00

Ekaterinya Vladinakova
$50.00

Maria Daniela Barbieri
$5.00

Igor Fedorov
$1.00

Anders Holmgren
$25.00

Alen Akhabaev
$1,000.00

Hannah Lawson
$25.00

Dustin D. Trammell
$100.00

Maksim Slupsky
$25.00

kyle litwin
$10.00

Cameron Bloomer
$10.00

Spencer Wolf
$50.00

Anonymous
$5.00

Constantinos Mihelis
$50.00

Denis Odinokov
$25.00

Devin Gray
$1.00

Anonymous
$1.00

Daniel Roth
$50.00

Katarina Ogris
$50.00

Santas for Mantas
$1.00

Eric Schulke
$10.00

Fabio Albertario
$50.00

Alexandra
$5.00

Mikolaj Ogrodnik
$10.00

Adam Hruby
$50.00

ieva janauske
$20.00

Nikolay Koshkin
$15.00

Michael Geer
$400.00

Angelica Nightingale
$25.00

Anonymous
$25.00

Alexander Enoch
$50.00

Alexander Sychkov
$25.00

Павел Мальцев
$10.00

Vaidas Jarusevicius
$25.00

Ramune Dirvanskiene
$10.00

Ieva Bruzaite
$1.00

Martin Šulák
$10.00

Vladas Lasas
$100.00

Thomas Murtagh
$5.00

Daniel Lemire
$10.00

Samuel Turunen
$25.00

Michael Beasley
$50.00

Steve Hill
$25.00

Giedrius Galminas
$25.00

Anonymous
$50.00

Michael Ten
$2.00

Oliver Rowland
$25.00

Evyn Tyndzik
$10.00

Andrew Moulden
$150.00

Mike Norman
$25.00

Anonymous
$25.00

Carlos Eduardo da Fonseca
$10.00

Anonymous
$10.00

Steven Tuttle
$50.00

THOMAS KLAUSET AURDAL
$150.00

Antonio Regidor García
$5.00

James joyce
$25.00

Leroy Arellano
$100.00

Leigh Jevon
$99.00

Didier Coeurnelle
$50.00

Robert Powles
$10.00

Joanna Skowron-Szalich
$25.00

Laurynas Zievys
$10.00

Edvinas Vitkus
$5.00

Anonymous
$2.00

Anonymous
$50.00

Anonymous
$1.00

Gennady Stolyarov
$150.00

Nancy Wills
$25.00

Curry Taylor
$400.00

Karel Hulec
$99.00

Mihkel Lukats
$25.00

Peter Colin
$50.00

Tautvydas Skrolis
$10.00

Arnas Bilkstis
$25.00

Barış Kaya
$10.00

David Stephens
$100.00

Jay Tkachuk
$50.00

Liucija Kuzminskaite
$3.00

Otto Valtakoski
$14.00

Bence Kodaj
$25.00

Anonymous
$10.00

marian szczepkowski
$50.00

Ksenia Tugay
$25.00

Reuben Tracey
$25.00

Anonymous
$25.00

Corbin
$50.00

Anonymous
$50.00

Michael Anuzis
$10.00

Sandra Watt
$150.00

Rima Martin
$25.00

Paul Spiegel
$25.00

Anonymous
$100.00

Kestutis Jankevicius
$25.00

Dovydas Joksas
$10.00

Thomas Murtagh
$10.00

Kevin
$10.00

Norman Gehling
$25.00

Dmitry Veselov
$25.00

Olli Markkanen
$10.00

Austin Parish
$25.00

THOMAS KLAUSET AURDAL
$25.00

Corey Barcombe
$50.00

Deane Williams
$10.00

Hanna Salmonowicz
$25.00

Anonymous
$25.00

Remis Bistras
$300.00

THOMAS KLAUSET AURDAL
$1.00

Ugne Mitrikeviciute
$1.00

Anonymous
$1.00

Anonymous
$1.00

Anonymous
$300.00

Ignas Zilinskas
$1.00

Anonymous
$1.00

Anonymous
$25.00

Elena Milova
$10.00